A top 100 private enterprises in China building materials
Flyer has already become one of the top 100 private enterprises in China building materials.
In the year of 2015, CBMEA has organized the Form on Development of China Building material. Flyer is One of the Top 100 Private Enterprises in China Building Materials, 2015- Press Conference on Top 500 Enterprises in China Building Materials, Top 100 Enterprises in China Building Materials Service Industry, Top 100 Private Enterprises in China Building Materials, China Building Material Industry 100 Fastest Growth Enterprises. The form was held from Sept 16th to Sept 18th. Flyer is mainly dedicate on the design and installation of steel silos that are used in storing grain, industrial powder, coal, limestone, cement, fly ash and so on. Flyer won the honor of one of the top 100 private enterprises depends on it's continuous and sustaining health development, the core value of harmony, the purchase of excellent, the thoughtful service and the quality of product. As for Flyer, wining this award is a recognition and driven force in silo industry. We will never give up our tenet and keep modifying. Serve our customer with the best service and product. Once you choose Flyer, you will have nothing to worry about.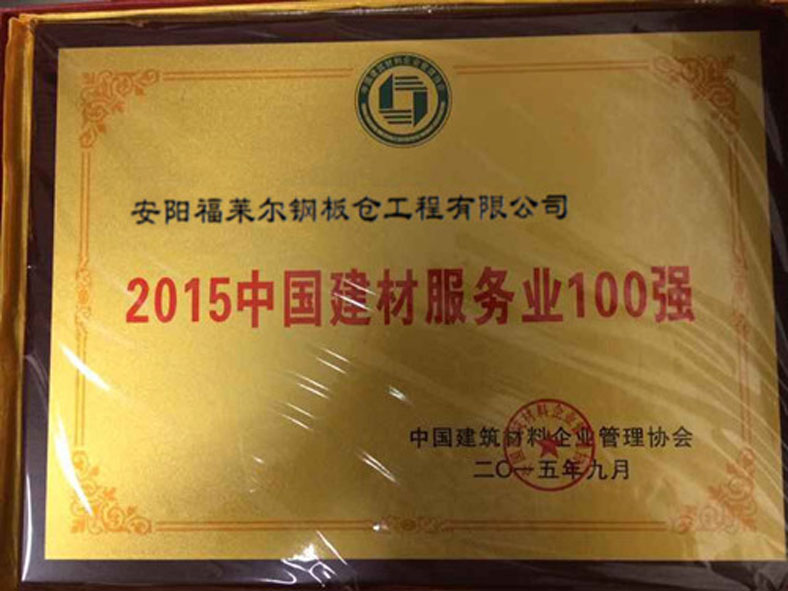 What service can Flyer steel silo provide?

We have certified teams in each segment, we can provide pre-sale service, design, on site installation, after sale service and so on. we are ready to provide you with an attentive service on your preliminary technical consultation and professional final-period design so as to meet the demand of the clients.
1. Preliminary technical consultation and design
Flyer can provide you attentive service on preliminary technical consultation and professional steel silo design to meet the requirement of our customers. We have a highly educated and experienced engineer and designing team at your service to provide the most suitable and perfect design.
2. Professional construction team
Our steel silo construction team has the experience of 30 years, some of our engineers has been involved in all silo project in our company. We can also send 6 construction teams at one time for emergency installation. We also train our workers at times and proceed some competition among them to encourage reach a higher working state.
3. Detailed construction schedule
After you ordered our steel silo, we will custom a rigorous schedule timely for you. Do not worry about any delay of our construction period. Except for reasons beyond our control, we will make other arrangement.
4. Strict quality supervision service
We adhere to provide personalized service on the quality-oriented principal. Every link of the project is under strict quality supervision based on the company and national standards. Strictly following all standards, we guarantee the quality of the project from design, preparation, prefabrication to on-site installation.
5. Free training
In order that our customers can scientific and reasonable use their silo, in case of accident happens and also prolong the service life of steel silo. We will provide free training to let you know the right way of silo operation and maintenance.
6. 1-year free maintenance
1 year free maintenance is provided after the silo is complete finished. You can contact us for free maintenance in one year and we only collect the corresponding cost of the material.
7. Phone service every three months
Every three month, our after sale staff will contact you to check the condition of steel silo and see if there is any questions during the use of steel silo. Of course, you can contact us for advice.
8. Timely reaction
We guarantee a timely reaction for arriving at the scene after receiving feedback. Timely reaction for arriving at the scene after receiving feedback