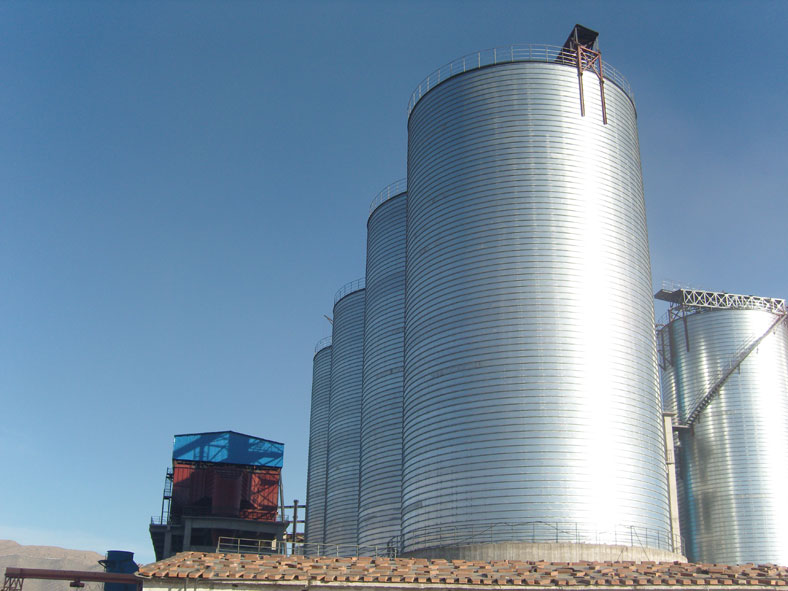 We have accomplished this chemical spiral silo in Hunan, China. The capacity of each silo is 800tons and the size of each silo is Φ8m×h12m, they are used for chemical storage. Because chemicals have special characteristics, these silos are equipped with some auxiliary equipment to ensure the safety of these chemical spiral silos.
About our client
The client who ordered these silos is a company that dedicated in antimony and arsenic trioxide selling. This chemical is irritating and toxic and therefore requires very high sealing of the storage tanks. Our 800tons chemical storage silo highly meet their requirements for chemical storage. After the project is checked and accepted, they shows long term cooperation trends with us.
Matters you should pay attention when store chemicals
Because of the special nature about chemical storage silo, there are so many matters need to pay attention during the use of chemical spiral silo, we will tell you some rule storing chemicals.
1 Storage of hazardous chemicals must comply with national laws, regulations and other relevant regulations.
2. Hazardous chemicals must be stored in a special hazardous chemicals warehouse approved by the public security department. The distribution department must store the dangerous chemicals and store the quantity in the warehouse. Do not set up hazardous chemicals storage warehouses without approval.
3 Dangerous chemicals should be stacked in the open air, which should meet the safety requirements of fire prevention and explosion protection, explosive articles, first-class flammable materials, wet burning articles, and highly toxic substances should not be stacked in the open air.
4. Warehouses storing hazardous chemicals must be equipped with technical personnel with professional knowledge. The warehouses and places should be managed by special personnel, and the management personnel must be equipped with reliable personal safety protection products.
5. The stored hazardous chemicals should have obvious signs, and the signs should comply with the provisions of GB 190. When storing two or more different levels of hazardous chemicals in the same area, the performance mark of the highest level hazardous chemicals should be used.
6. There are three types of storage methods for hazardous chemicals: isolated storage, separated storage, and separated storage.
7. According to the performance of hazardous chemicals, classification, classification, storage. All kinds of dangerous goods should not be mixed and stored with contraindications.
8. Buildings that store hazardous chemicals, smoking and use of open flames are strictly prohibited in the area.