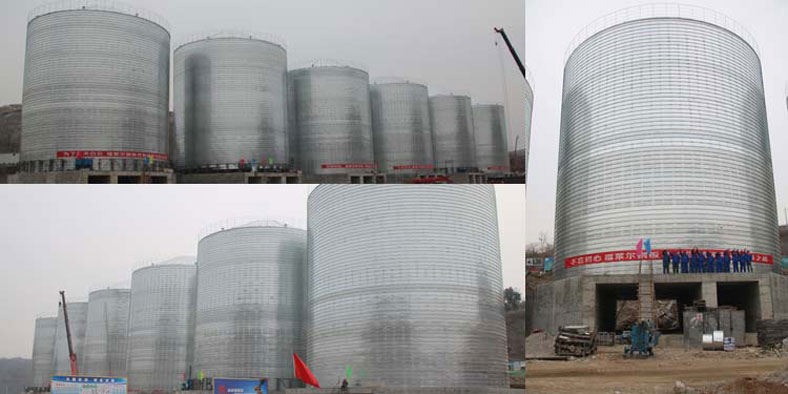 Tank Size: Ф20m×H27m
Storage Capacity: 15000T
Application: Mineral powder and gravel
Time Cost: 37 days
Location: Xingyang, Henan, China
Brief introduction of storage silo project in Xinyang
This silo project can be called the most inspiring silo project we have constructed. It only takes us 37 days to finish the installation of six steel silos. The six silos begin to built on Nov 8
th
and finished on Dec 15
th
2017. And the whole construction period is 37 days, which proved the high efficiency of our steel silo construction technology. The complete project include 6 silos and each of the silo has a capacity of 15000tons. These silos are build for Henan Guo Lian Mining Co., Ltd. to store mineral powder and gravel.
Six steel silo construction team were send together to meet our customer's requirement of emergency use. Our steel silo construction team accomplished the order with high quality on time and create a miracle of the shortest construction period, which is by now the shortest large storage tank construction duration in China. This project brings us a great reputation in steel silo industry.
Spiral Folding Principles
Flyer steel silo uses the most advanced spiral undercutting technology in the world. While being constructed, coil sheet of 495 mm in width is shaped through the shaping machine, bent by the bending machine, and then undercut to form a spiral protruding strip of 30-40mm width around the silo body, which plays a role of strengthening the silo body. Our shaping machine is also able to fold two different steel sheets together at the same time.