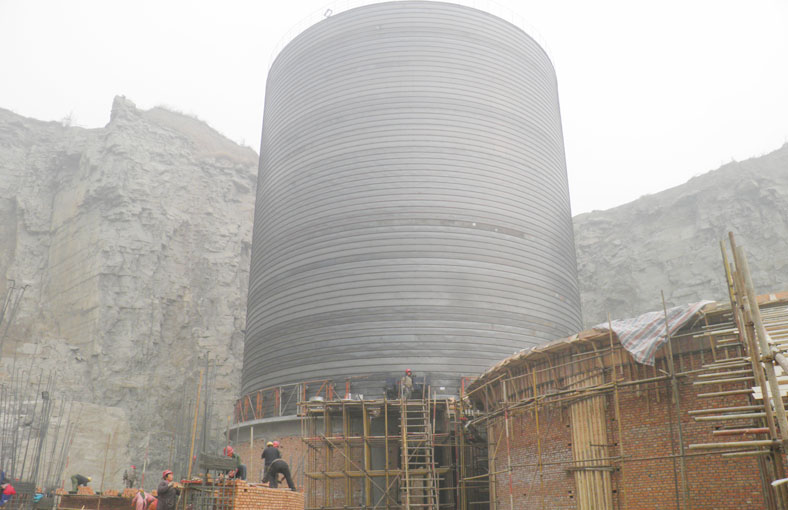 Silo Size: Φ8m×H8m
Storage Capacity: 500T
Application: Mineral powder and gravel
Location: Guangxi, China
This 500 tons cement silo was built by Flyer in Guangxi, China. The size of this cement silo is Φ8m×H8m. This is a single silo that been built in a cement factory. Flyer sent 10 experienced workers and the silo was accomplished in the shortest time. We provide fast and safety installation of all kinds of steel silo. Our client is satisfied with both our silo and our service.
About out client
This company in Guangxi is specialized in cement and slag producing and sale. After comparison of different steel silo manufacturer, they finally choose us to build their silo. After a few months using the steel silo they contacted us and ordered another two storage silo with the diameter of 16m and the height of 20m. Our customer expressed their long term cooperation with us.
About our service
We have a experienced and professional engineer team that can provide you the most suitable and cost efficient design. The complete design of the whole flow from material loading, storing and material unloading based on your detail requirement. And, all of our design, including preliminary design and construction design, are all for free.
Flyer steel silo apply the world's most advanced technology of spiral steel silo. Provide the service of one year warranty and pay return visit regularly. We specialized in the construction of Chemical storage silo, industrial powder storage silo, lime silo, coal storage silo, fly ash silo, wastewater treatment storage silo, grain silo, etc.