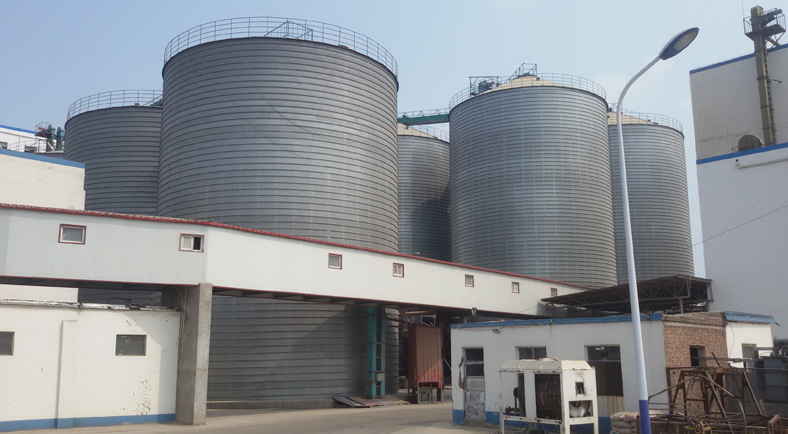 Introduction of grain storage silo
Grain silo is usually large silo to contain all kinds of agriculture products such as
rice, corn, wheat, soybean, barley, sorghum, sunflower seeds, palm kernel, buckwheat, millet, bran, peas, beans, rapeseeds, beet seeds, peanut, rye seeds, flour, feed, minor cereals and and other bulk granular crops, etc
. Grain silo is also named grain bin or grain container. Grain storage silos are usually for home appliance or large granary projects.

There are different kinds of silo for grain storage. Generally speaking, there are timber silo, plastic silo, cement constructed silo and steel silo. Spiral steel silo is, over all speaking, the most outstanding silo for it's convenience, light, low cost, long service and other features.
It is very important for grain to choose a suitable silo, it depends on the characteristic of grain. Most of the grain are with moisture, they are afraid of bugs and over wet. Flyer grain silo has the function of moisture proof, insects and rodents prevention and convenient in and out of grains. Good air tightness is suitable to spray pesticides. Flyer can offer you different thickness of galvanized steel silos and silo design. We can provide you complete storage and installation equipment solutions for agricultural markets all over the world.
How to use grain storage silo
Grains before being delivered to the grain silo, there are some necessary job to do. The first thing is to remove impurities like straw, weed, rag, sand and other impurities. Make sure the grain is dry and clean. And there are also some different solutions to store grain in different condition.
For ordinary storage, it is necessary to remove the impurities and keep grains dry. Then delivery them into the silo with proper temperature. Next, seal the import door and output door of the silo, make sure pest control, moisture-proof, anti-rat and daily grain inspection work will be done.
For heat seal storage, it is more suitable in summer. With the increasing temperature of the silo, grains inside the silo will reach an effect of pest killing.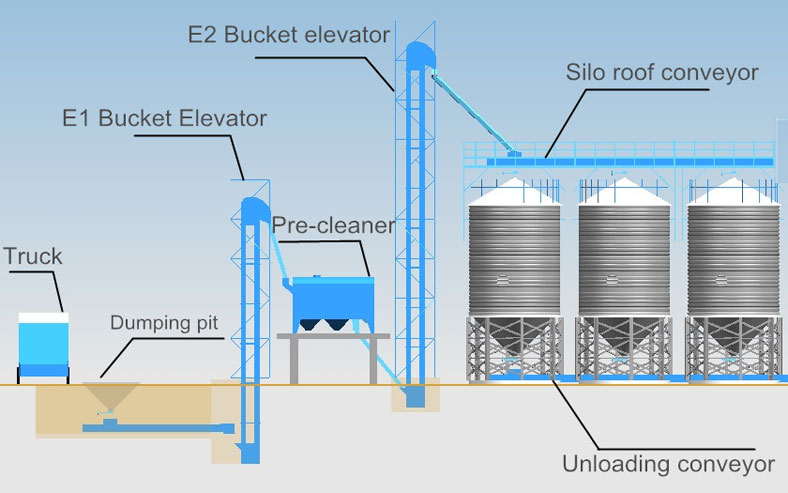 For sealed pneumatorexis, this method is much more suitable for the new harvest wheat. Follow the next steps:
The new harvest wheat need to be exposed under the sunlight to expel the water content in wheat as soon as possible. Put the dried wheat in the silo in one week. Pay special attention to the seal condition of the input door and the output door to ensure the silo is well sealed. During the time wheat being sealed this way. Arrange workers to inspect and check the seal condition of the silo, any leakage of oxygen can not achieve the effect of oxygen free effect.
For storage of mixing protective material, this protective material is specially used in grain storage to keep away from pests in grains. So it mustn't be used in rice and flour storage. Because these material will not be deep processed and can be used directly. Workers should wear gloves and masks to prevent drug intoxication.
As we can see in above methods, there are some necessary requirements that the silo shall meet.
Storage environment, temperature, humidity, sealing and so on are the necessary requirements for grain storage.
Advantages of Flyer grain storage silo
Good sealing performance. With our double seam system, the silo is well sealed without leakage, which can totally meet the requirement of grain storage that need to spry insecticide or need stifling and other requirement.
Temperature measurement. Temperature measuring device is installed inside the grain silo. When the temperature changes in the silo, the mobile blow ventilation device will be implemented for safety storage. Therefor, steel storage silo is the most safety and effective way for grain storage and it can keep all troubles away.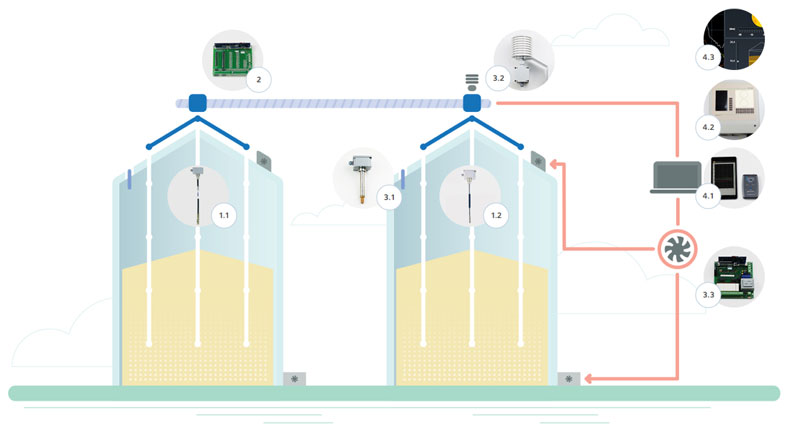 Easy operation. Highly automatic, advanced loading and unloading equipment provides you great convenience on operation and management.
Meet the customer's requirements. The grain silos we offer totally meet international standard and we can also do customer design silos according to our customer's will. Our silo can eliminate the risk of insect pests and chemical residue and whether small or large, you get a robust and innovative product.
Flyer has a professional and experienced designing and installation team, our silos has a higher standard than the national standard from both galvanized sheet and our bending technology. We also have a thoughtful service that our after sale staff will contact you every three month to ask about the using condition of the silo and solve your problem in time. Flyer is your relieved choice.