We have briefly introduced the spiral silo construction technology in the spiral silo construction process, a lot of customers may wonder what is the spiral silo bending technology, what makes it different from other steel silos, and what is the difference between lipp spiral silo and assembly steel silo.
What is the spiral silo construction technology?
Flyer adopts the most advanced spiral silo construction technology in the world. Not only the technology but also the silo construction equipment are the most advanced so far in the silo construction industry. While being constructed, coil sheet of 495 mm in width is shaped through the shaping machine, bent by the bending machine, and then undercut to form a spiral protruding strip of 30-40mm width around the silo body, which plays a role of strengthening the silo body. The shaping machine can fold two different steel sheets together at one time and silos being process by this spiral silo construction process is called lipp silo. We already write a passage and give a particular introduction about lipp silo.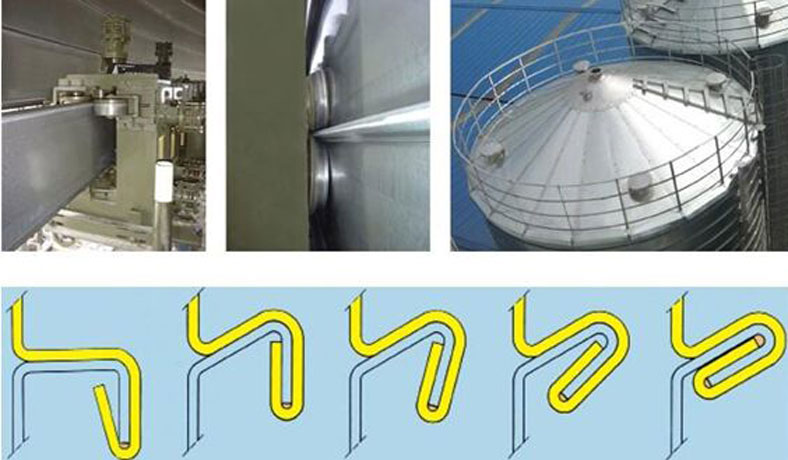 Comparison between spiral silo and assembly silo
To ensure the quality of the spiral silo, Flyer carries on turn-key silo construction process from silo designing, material preparation, on site installation, maintenance and so on.
Flyer is a professional steel silo builder with continuous development of more than 30 years, has been quickly spread and popularized all over the world. Flyer steel silo is a new type of silo that wildly applied in each link during the process of grain storage and transportation, and has successfully become a symbol of modernization in both bulk and storage of grain industry. All the above achievements depend on the three superiorities of its functions.
Economy: Steel silo costs the least among all types of silos, not only the silo body but also the silo foundation. which is only half of the construction cost of concrete silo and four fifths of the brick-construction structure. It will steadily decline due to the decreasing price of steel.
Adaptability: Steel silo enjoys excellent performance on mechanization and automation of grain storage, with monitoring, management, the ventilating and temperature management of the condition of stored grain is extremely convenient.
Establishment: Steel silo enjoys easy and fast establishment for its simple requirement on foundation, quick construction speed on establishing, and free from natural elements' effects. After having investigated on the superiorities of steel silo, customers list following suggestions during its manufacturing:
Materials: Commonly, steel silo is manufactured by popular models steel. Steel Q235 is the best choice for its convenient in purchase and low in cost. If the calculation thickness of steel exceeds the production capacity of equipment, low-alloy steel will be a better substitute. What's more the steel is usually galvanized to meet the requirement of anticorrosion. Therefore, zinc coating becomes a vital factor of steel silo construction, which will directly effect on its serving life. China keeps the same standard of zinc coating with foreign countries which is 400g per square meters.
Style: Spiral steel silo and assembly silo are two prevalent styles of thin-walled steel silo. Both of them possess their own features due to their different structures.
Foundation: Basically, there are two types of steel silo foundation, plat form and hopper. Plat foundation silo is widely applied in steel silos of larger diameter which sweeper should be installed on the bottom inside. Plat foundation steel silo is featured by easy constructed and lower cost. Meanwhile, hopper foundation steel silo enjoys great popularity when customers are considering about grain unloading artesian. There are three hopper types like full steel hopper, semi-steel hopper, and cement hopper. Generally, there is no big difference in application of these three different hopper types. However, a special type of cement hopper constructed by backfilling, although requiring much easier construction process, is a big waste on raw material and silo capacity and requires a large civil engineering quantity.
The features of spiral steel silos
It is manufactured by hot dip galvanized sheet so that the color of its undercutting is evenly.
It can be applied for storing liquid materials like water and oil for its excellent performance on air tightness.
The sheet used for spiral steel silo should be thicker than that for assembly silo for its internal wall is lubricated.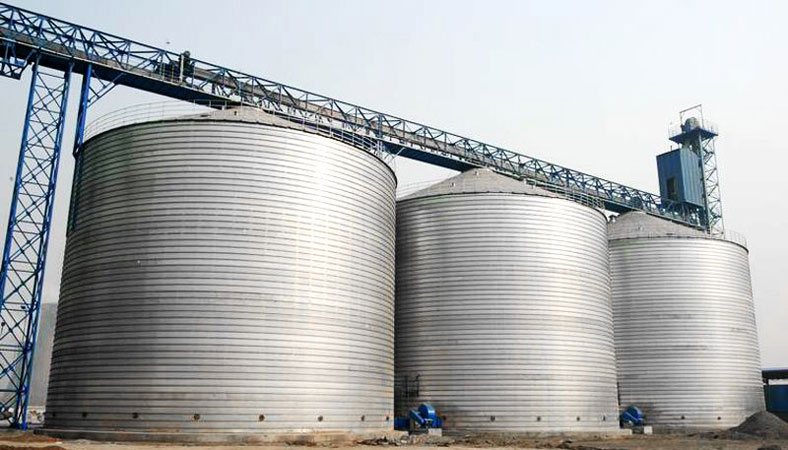 The features of assembly silos
It can be manufactured by both hot dip galvanized coil or sheet and galvanized sheet. So it is more convenient on purchasing material.All the components of the assembly silo are standard, so they are replaceable if damaged or rusted during its serving life.
It is developable and transferable which can best meet the special requirement of customers who are renting field.
Its pillar can be installed outside, which is favorable for grain storage.
It can meet the standard requirement of air tightness after caulking by silicone because its own air tightness is unideal.
It can be manufactured as double insulation construction with little increase on cost.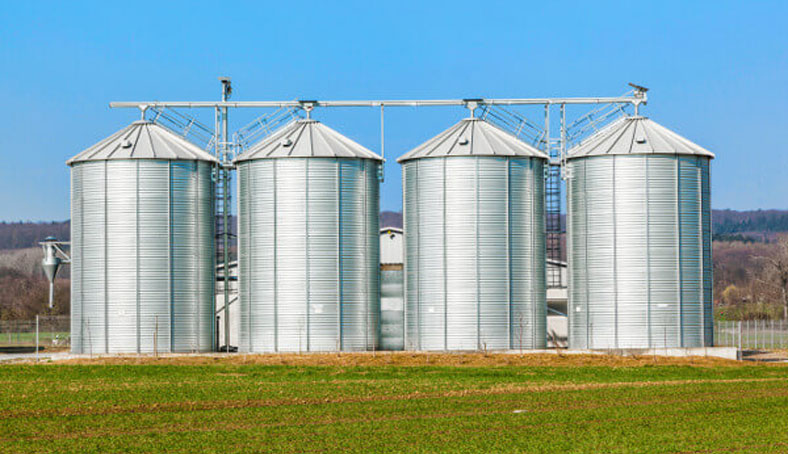 As suggested above, customers should take comprehensive consideration before making choice to maximize the function price ratio and to perfect the investment results.