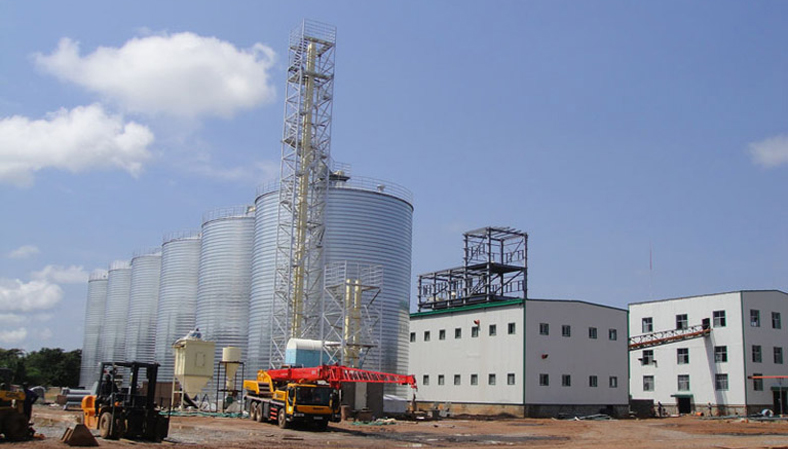 The grain storage steel silo and grain wearhouse are applied in the grain industry, mainly in two aspects: one is food and oil processing factories, another is used in grain terminal. Then how to decide the specification of the silo? There are following situtations according to the tonnage of the grain silo ant the types of grain.
How to decide the specification of the silo?
For general processing of large oil processing plants of 2000 tons or more, it is usually necessary to build 50,000 to 80,000 tons of steel silos or steel warehouse. In addition, the variety of soybeans is relatively simple, and it can be considered to build a large steel silo with a single warehouse capacity of 10,000 tons to 15,000 tons, which is relatively economical. In addition, at present, domestic large-scale corn and other deep processing enterprises such as starch have a large daily processing capacity, and it is also recommended to select such a large steel silo and a large steel storage warehouse.
Medium-sized oil processing plants and medium-sized corn deep processing enterprises can choose a single warehouse with a storage capacity of about 5,000 to 7,500 tons.
For flour processing enterprises, choosing a wheat steel silo will be the same as the oil plant. It is becasue wheat is different from bean,m wheat has so many varities, so the number of steel silos is required, the capacity of single wheat storage silo is better be about 1000 to 2000 tons. The daily processing of wheat determines the capacity of the wheat storage silo.
For the malt and beer processing industries, the capacity of a single grain storage silo should be about 1000tons to 1500tons.
For feed processing industry, a single grain warehouse capacity of 1000tons to 3000tons is appropriate.
For rice processing industry, most of the existing rice storage silo and storage warehouse has the capacity of no more than 1000tons per silo.
As for small grain silo used for transporting by small trucks, we usually choose hopper bottom grain storage silo with small diameter and the capacity is no more than 500tons per single silo. The grain loading turck can be directly loaded with grain under the steel silo.
In the grain port and dock industry, the port acts as a transit point for grain, and generally has a large construction capacity and a short transit period. China's current coastal port steel silo, steel storage silos capacity of about 2 million tons, the general single warehouse capacity between 5,000 to 15,000 tons, mainly flat-bottom clearance machine.
What can Flyer do for you when choosing a proper grain silo?
Choosing an appropriate grain storage silo is the primary task for storing grains. Flyer steel silo has the function of moistureproof, insects and rodents prevention, and is convenient to input and output grains. Air tightness of the silo is pretty good, so it is suitable for use of pesticides. Flyer offers a wide range of galvanized steel silos for grain storage, and provides complete storage solutions and installation equipment for agricultural markets all over the world. After decades of storage design and manufacturing experience, Flyer grain storage silo offers commercial users the best build-in value over the life of the product. Here is the size table of
Flyer steel silo
with different capacities. This size table is attained by storing wheat in steel silos, and it's only for your refference. We can also design and customize grain silos according to your own needs.
Our experienced engineer team will provide you professional design for the whole flow from material loading, storing and material unloading based on your detail requirement. And, all of our design, including preliminary design and construction design, are all for free.
And we have a preferential capacity table which is the most scientific width with the most scientfic heighth.
In short, choosing the right diameter and height of the steel silo and discharge method depends on many factors. In the end, you must match the function, otherwise you will not be able to maximize your economic benefits.