Grain steel silo is also known as grain bin, grain storage steel silo. It is a giant storage container for grain store. grain storage silo is used to store grains, such as rice, wheat, corn and other grain material. Generally, there are different material to built a silo, we can find timber silo, plastic silo, cement silo, steel silo and so on. And steel silo has becoming the most popular silo among them for it's outstanding performance.The primary task for storing grains is to choose a appropriate grain storage silo.
Flyer steel silo has the function of moisture proof, insects and rodents prevention and convenient in and out of grains. Air tightness is pretty good, so it is suitable for use of pesticides. Here is a passage about pesticide. Flyer offers a wide range of galvanized steel silos for grain storage, providing complete storage and installation equipment solutions for agricultural markets all over the world. After decades of storage design and manufacturing experience, Flyer grain storage silo offers commercial users the best build-in value over the life of the product.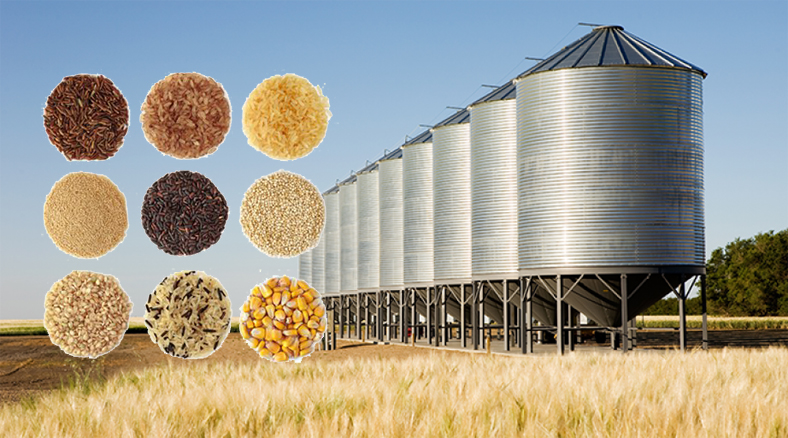 To meet the requirement of grain storage, Flyer steel grain silo easily controls the temperature and humidity inside the silo, which prevents grain metamorphic effectively. Some people build concrete silo to store grains, however, concrete silo is 6-10 times the weight of steel grain silo. To store the same volume of grain, steel grain silo's investment is just the half of that of the concrete silo. Flyer grain silo can help customers save a lot of money. The grain storage silo is made of high quality galvanized sheet which can be use for 30 years and never rust. Grain silos are suitable for grain depot, feed mill, oil mill plant and farm use, etc.
What can steel silos bring to grain storage system?
Elevate your grain management to new heights with a complete grain silo system. Flyer offers the highest grain silos and has some of the largest grain-holding capacities available.
More modes and choices for customers to choose, so you can get the silo as you need. Single silo capacity range up to 44,550 m³and it can fully meet your grain storage needs.
More innovative and user-friendly features are added to the grain silos to help you maintain and protect your valuable stored grains.
Spiral steel silos have perfect product durability and top quality performance. Moreover, scientific design and ventilation equipment ensure the quality and safety of the grain.
Steel silo vents are installed on the top of the silo for heat dissipation and ventilation, which can prevent the grain from being mould.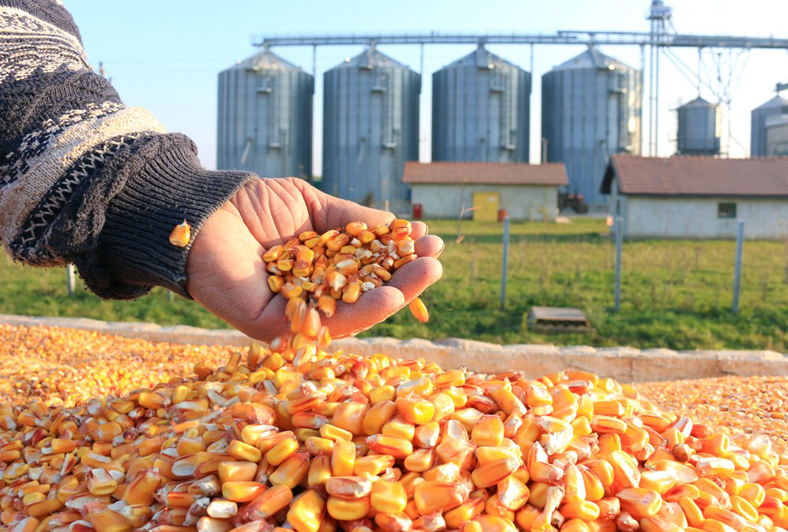 Grain Silo's Application Methods
Before storage, remove the impurity in the grains as far as possible. Usually we adopt the method of winnowing to remove the grain pests, straw, flat, weed seeds, sand and other impurities. Grains sufficient drying must be ensured before storage. Several grain storage methods are as follows:
Ordinary storage: Grains must be cleaned and dried, then put them into grain silos with the suitable temperature, sealed silo's import and export, make sure a good pest control, moisture-proof, anti-rat and daily grain inspection work.
Heat sealed storage: This method is the use of high temperature in summer. The grain temperature is increased after hot warehousing and achieved the insecticidal effect.
Natural anoxic storage: Natural anoxic storage is only suitable for the new harvest wheat. The storage method is as the follows: Clean the new crop of wheat and then dry them as soon as possible in the sun. Put the dried wheat into grain silo within one week. Special attention should be paid to the import and export of grain silo's tightness. During the natural anoxic storage, workers must have a regular investigation and inspection of import and export of grain silo and make sure the whole barn in good condition. If the seal is not strict or damaged, it cannot reach the effect of anoxic storage.
Storage of mixing and protective agent: The protective agent is specially used to mix to a class of grains and chemical control of stored grain insect infection. Protective agents cannot be used for rice and flour. Gloves and gauze mask should be used for mixing and using.
From the above methods of grain storage, we can see special terms should be met like the storage environment, temperature, humidity, sealing etc. Flyer grain storage silo just meets all these requirements.
Flyer Grain Storage Silo's Featured Advantages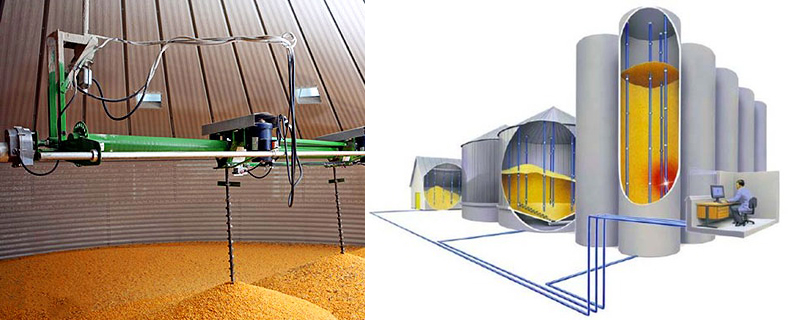 Strong leakproofness: By use of special equipment for bending and seaming, and ensuring the quality of all parts of the silo body in process, the seal of the silo is particularly good. Therefore, by using the silo for storage of grain, the process requirement of pesticides and fumigation can be well met.
Built-in temperature measuring device: Temperature measuring device is installed inside the grain silo. When grain temperature changes, the mobile blow ventilation device will be implemented for safety storage. Therefore silo become the most safe and effective way of grain storage without any effect from outside.
Convenient and easy in operation: High automation, advanced loading and unloading equipment provides you great convenience on operation and management.
Highly respect customer's requirements: We offer a wide range of grain silos which eliminate the risk of insect pests and chemical residue and whether small or large, you get a robust and innovative product. Your requirements are of utmost priority. Individual planning leads to reliable solutions, which finally means your success.
Grain storage management is a very tedious work, which requires workers plenty of time to inspect grain's storage situation regularly. What's more, they also should consider making routine maintenance for grain silo. However, Flyer grain silo can help you to save these tedious works.
With experienced and well-managed professional installation team, our grain silos are very strong, durable and easy to operate. We have phone service every three months to remind our customers of possible problems in the course of using steel storage silo and collect advices or suggestions in product quality and the related services. We guarantee a timely reaction for arriving at the scene in 36 hours after receiving feedback. Flyer is your relieved choice.